SPRING FEATURE
We are thrilled to present our newest featured artist, the lovely and inspiring Taylor from Petal to the Metal!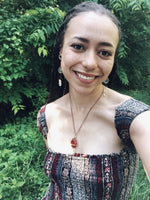 Taylor Fogle - Cincinnati & Dayton
Meet Taylor Fogle, the owner/creator at Petal To The Metal. Her small business specializes in handmade pressed flower + hand painted jewelry, crochet accessories, gifts and more!
All the flowers have been hand picked locally in Dayton/Cincinnati, OH and hand dried/pressed. All crochet pieces are made with acrylic or cotton yarn, all made with hand designed patterns. 
SHOP PETAL TO THE METAL
BESTSELLERS
Here are a few of our bestselling goods! Check out our CATALOG to view our full collection.
BOHO EARRINGS
Vibe high in these fan-favorite wood-crafted earrings.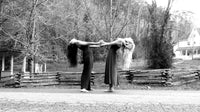 Welcome, Goddess!
Witchy Sisters Project is more than a boutique - we aim to encourage women to continue to seek their inner powers and strengths. We want to give our shoppers the opportunity to discover unique, handcrafted and high-quality products. Each season we feature an artist and spotlight their craft. Our hope is that WS can foster a sisterhood and community of shoppers and vendors who can come together to enjoy an inspiring conversation and an ever-changing, unique shopping experience.
<3 Kristina