HANDCRAFTED GOODS & UNIQUE FINDS
FEATURED ARTIST
We are thrilled to present to you our newest and lovely featured artist, Mack!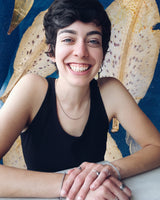 Mack - Columbus, Ohio
I'm Mack, an Ohio-based artist who collaborates with nature. This series 'Offerings' was created with the Cyanotype process, an ancient Greek formulation where light and dark are reversed and UV rays create stunning blue prints. I also layer plant life and pressed flowers from around my neighborhood that I find on my daily walks. These ethereal moments in time are a meditation with the world around me. The book 'Braiding Sweetgrass' by Robin Wall Kimmerer inspires my art, she says: "Paying attention is a form of reciprocity with the living world, receiving the gifts with open eyes and open heart. The land knows you, even when you are lost."
OFFERINGS AVAILABLE NOW
WOOD EARRINGS
Vibe high in these fan-favorite wood-crafted earrings.
Welcome, Goddess!
Witchy Sisters Project is more than a boutique - we want to give our shoppers the opportunity to discover unique, handcrafted and high-quality products. Each season we feature an artist and spotlight their craft. Our hope is that WS can foster a community of shoppers and vendors who can come together to enjoy an inspiring conversation and an ever-changing, unique shopping experience.
<3 Kristina